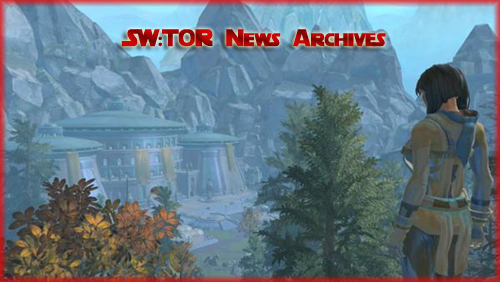 Listed here are all the news "mini-announcements" for previous updates:
22- 08 - 09
"New Gameplay Videos" Released!


After a long wait and some considerable circulation of rumours at SWTOR.com, BioWare/Lucasarts finally release a large chunck of gameplay footage for Star Wars:The Old Republic. Long enough to be split into 4 parts, the video follows the Bounty Hunter Class, the Smuggler Class and the newly announced Sith Warrior class. You can find links in the "Featured Media" section, below.

13 - 08 - 09
"NEW E.P.O.C.H. Banner" Released!


Creative Director Redwatch revealed his new-look web-banner for the E.P.O.C.H. community on 13th August, 09. The banner was positively recieved by everyone in the guild and is considered a great visual representation of what E.P.O.C.H. is all about. Many people commented on the detail of the banner, done in Redwatch's unique style.

"Wow, great work. I must say that is one of the best banners I have ever seen." - Andariun of The Praxeum
Older Archives:
Edit
21/01/11: Quesh: Dangerous Investment
14/01/11: Studio Insider: Starship Creation & Community Q&A
07/01/11: Biographies Update
31/12/10: Cinematic Design
24/12/10: Trooper Dossier & Zabrak Inhabitants Reveal
10/12/10: 'Rebirth of the Sith Empire' Timeline
03/12/10: Closer Look at Crew Skills & Jedi Wizard Renamed
26/11/10: New Inhabitants on the Holonet
19/11/10: Flesh Raiders, Q&A and Fan Friday (Studio Insider)
13/11/10: Crew Skills
05/11/10: Warzone Video
29/10/10: New Agent Intel
22/10/10: New Biographies & Fan Friday
15/10/10: The Fall of Exar Kun Timeline
08/10/10: Planet Reveal: Ilum
01/10/10: Designing the Advanced Classes System
24/09/10: Smuggler Advanced Classes
22/09/10: E.P.O.C.H. Chatroom Opens
17/09/10: Dev Despatch - Designing the light Side
10/09/10: Planet Reveal: Corellia
04/09/10: Mysteries of Knights of the Old Republic
03/09/10: Space Combat of the Old Republic
27/08/10: Blood of the Empire#10
20/08/10: Starships of the Old Republic
13/08/10: Jedi Knight Class Update and Blood of the Empire#9
06/08/10: Timeline#9 & New Species Reveal
30/07/10: Planet Reveal: Nar Shaddaa & Blood of the Empire#8
25/07/10: ComicCon
23/07/10: Fatal Alliance Released
16/07/10: Music of The Old Republic and Blood of the Empire#7
11/06/10: Timeline#8: Jedi Civil War
04/06/10: Blood of the Empire #4 released
30/05/10: Companion Characters announced and Sith Warrior update
21/05/10: HOTH Planet Reveal
14/05/10: Advanced Classes announced
07/05/10: Blood of the Empire #2 released
30/04/10: New Biographies, Inhabitants and Darth Malgus
23/04/10: Combat Dev Video
16/04/10: Timeline#7: Peace for the republic
09/04/10: Voss Planet Reveal
02/04/10: Dev Blog - Community: The Third Element
01/04/10: April Fool's Update: EPOCH joins the Republic!
26/03/10: NPC Biographies released on SWTOR.com
12/03/10: Triple update; Beslavis Planet reveal, Blood of the Empire webcomic release, Lunarwolf joins leadership of EPOCH
05/03/10: Jedi Consular Developer Blog released
26/02/10: Taris Developer Vid released
13/02/10: EPOCH Wiki v1.1 update complete
12/02/10: Taris Planet Reveal
11/02/10: The E.P.O.C.H. Agency celebrated its 1st Birthday as a TOR Guild.
22/01/10: TIMELINE #6: Onslaught of the Sith Empire
08/01/10: Dromund Kaas Planet Reveal
18/12/09: Tatooine Planet Reveal
11/12/09: SITH INQUISITOR, Empire Class Reveal
04/12/09: JEDI CONSULAR, Republic Class Reveal
27/11/09: Alderaan Planet Reveal
13/11/09: IMPERIAL AGENT, Empire Class Reveal
30/10/09: JEDI KNIGHT, Republic Class Reveal
23/10/09: TIMELINE #5: The Battle of Bothawui
16/10/09: Balmorra Planet Reveal
11/09/09: Coruscant Planet Reveal
04/09/09: TIMELINE #4: The Empire Changes Strategy
28/09/09: Beta Testing Signups announced
12/09/09: The Sith'ari Path join E.P.O.C.H. as Allies
06/09/09: CODeX join E.P.O.C.H. as Allies
28/08/09: SITH WARRIOR - Sith Class Reveal
22/08/09: "New Gameplay Videos" Released!
13/08/09: New EPOCH banner created by Harewood of CODeX
06/08/09: "EPOCH Slicer#1" Released.
29/07/09: "The Hyperion" RP opens at E.P.O.C.H.
26/07/09: PrioryJK promoted to Special Agent.
19/07/09: Nosyd becomes an Agent of The E.P.O.C.H.
06/07/09: "A Wayward Son" RP opens at E.P.O.C.H.
05/07/09: Remnants of Mandalore joined E.P.O.C.H. as Allies.
03/07/09: TIMELINE #3: The Return of the Mandalorians
30/06/09: Web URL of Guild site alters to www.agentsoftheepoch.org
27/06/09: Lunarwolf promoted to Chief Operative
27/06/09: Dugo and Zoran become Agents of The E.P.O.C.H.
17/06/09: New guild name of Agents of the E.P.O.C.H. revealed (formally "Blasters for Hire")
12/06/09: SMUGGLER, Republic Class Reveal
29/05/09: TROOPER, Republic Class Reveal
14/05/09: TIMELINE #2: The Mandalorian Blockade is broken
27/04/09: Hands of Darkness joined E.P.O.C.H. as Allies
10/04/09: Ord Mantell Planet Reveal
27/03/09: TIMELINE #1: The Treaty of Coruscant
20/03/09: BOUNTY HUNTER, Empire Class Reveal
15/03/09: The Praxeum join E.P.O.C.H. as allies
13/02/09: Hutta Planet Reveal
11/02/09: Agents of The E.P.O.C.H. goes live, under the temporary name "Blasters for Hire"
30/01/09: Tython Planet Reveal